For an undisclosed sum…. and makes it available for free.
The app translates words in images and photos into your own language – a typical example is to help decipher road signs in a foreign land.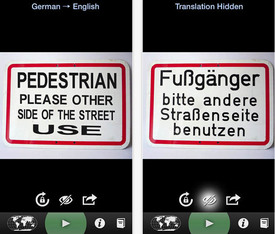 Unless Google just bought it to reduce competition, the purchase could indicate an extra dimension will be coming to its mobile search offerings. I can imagine being able to enter an image directly into the search app. This already is kinda possible with image search, where you can enter an image URL and let Google find similar images.
Future uses could include:
Take a photo of a restaurant sign – and Google will combine that with GPS to bring up a menu and reviews
Take a photo of a product (as an alternative to its barcode) and find price comparisons
Take a photo of a person and find their social media profiles!
Take a photo of a numbered letterbox or house and order a taxi (again, combining the image data with GPS